The Twelve Mushrooms Oracle Deck
Inspired by a special event
This deck encapsulates the wisdom and harmony of the Memphis Mushroom Synchronicity. 7 cards depict the fundamental stages of human life on Earth, while the reverse sides depict 7 sequential psycho-spiritual states of ascension that lead to enlightenment.
Embued with geometry
Together the states and stages form a multidimensional geometric framework helping you align with natural cycles and integrate your inner and outer aspects of being. The Order of the Twelve Mushrooms deck is your ally in bringing joy, perspective and balance into your life!
Included in the deck
Included in the box is the 7-card deck, 3 bonus reference cards, a 40-page pocket guide, and 2 reference sheets with an overview of the deck's story and detailed diagrams. Tap the "Guidebook" button below to view an in-depth e-book guide that connects the deck to sacred geometry and astrology.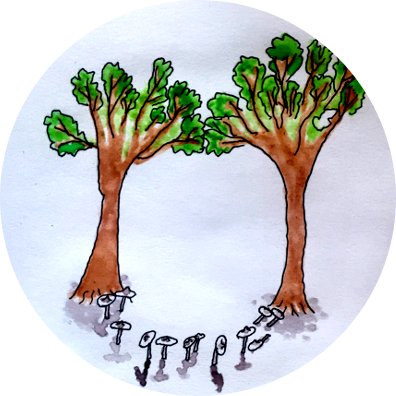 Introduction
Order Of The Twelve Mushrooms (OOTTM) is based on a special synchronicity that I experienced in Memphis, Tennessee, USA on August 22, 2017 - a day after the Great American Eclipse! I believe the synchronicity was a spiritual revelation illuminating insights about reincarnation, ascension and the human journey. I call the event the Memphis Mushroom Synchronicity (MMS).
Research and analysis of the MMS continues to uncover deeper wisdom, truth and synchronicities, particularly through the language of sacred geometry. Through this website I intend to share the wisdom gained and inspire you to find your own synchronicities everywhere! It is my deepest hope that the Order Of The Twelve Mushrooms oracle deck and story fills you with as much peace, joy and wonder as it has for me.
Learn More